next ➔
"ECHOS" OPENING Art Exhibition
Art Exhibition from Rabat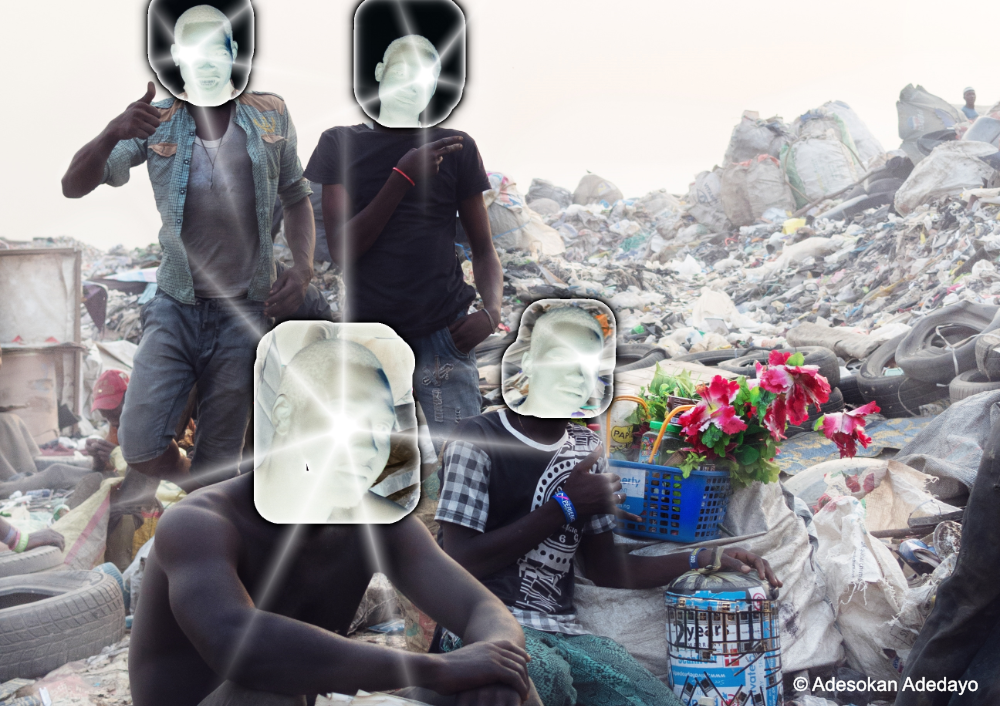 "ECHOS" is open for free on all three days.
With works by Aàdesokan Adedayo/ Nigeria, Younes Ben Slimane/ Tunisia, Fatim Benhamza/ Morocco, Mohamedali Ltaief/ Tunisia, Amine Oulmakki/ Morocco
Curated by Elisabeth Piskernik/ Morocco/ Austria (Le Cube - Rabat)
In cooperation with the Heinrich Böll Foundation - Rabat and Berlin
In the group exhibition "ECHOS", artists address an environment marked by economic and social inequality, in a time of climate change and increasing population migration. Aàdesokan Adedayo, Younes Ben Slimane, Fatim Benhamza, Mohamedali Ltaief and Amine Oulmakki reflect – just like an echo – local developments caused by global factors and observed with concern by the scientific community.
By addressing waste management, the resulting consequences for nature and living organisms as well as – despite everything – the hope for change, the artists reveal, by using different media such as photography, collage and video, the reality experienced in Africa through the prism of the environment.
With her project entitled "What do you choose to see?", Moroccan-based artist Fatim Benhamza presents a triptych that encourages us to think about recycling as a resource and invites us on a journey through the metamorphosis of waste. By asking the question "What do you choose to see?", the artist encourages us to reflect on our choices. The decision to send a waste product to its death or extend its life is a subtle appeal to our responsibility as global citizens.
The analogue photo series "All come from dust" by Tunisian artist Younes Ben Slimane documents the lives of craftsmen who make the traditional bricks in Tunisia. It seeks to highlight a tradition that is increasingly being forgotten in our globalised world and to encourage a return to traditional local knowledge and skills.
In his video work "Homrane", artist Mohamedali Ltaief, who is also from Tunisia, tells the story of an utopian place. Homrane consists of intimate and abstract fragments of a body, the body of Slim Baccar, who returns to himself and to Earth, the forest of Ain Draham in Tunisia. The work is an invitation to re-join nature and thus find one's own nature.
The photo installation "Waste identity - Bola Bola" living by Nigerian artist Aàdesokan Adedayo addresses the movement of waste as a metaphor for human migration and highlights the urgent need to deal with this phenomenon. Based on a field study of Africa's largest landfill, "Olusosun in Lagos", the artist reveals the ecosystem created at the landfill and shows the lives of the "Bola Bola", those migrants who settled at the landfill and, by recycling waste, built up their own habitat with infrastructures and trade relations.
With his work "Vaine tentative de planter un arbre" (The futile attempt to plant a tree), Moroccan artist Amine Oulmakki creates a character in its own right – a human donkey, who through actions such as planting an olive tree attempts to stand up for the planet on behalf of humanity and non-human beings. Travelling through urban landscapes dominated by concrete, the human donkey searches in vain for an ideal place to plant the tree, an ancient symbol of the Mediterranean.
The exhibition was shown for the first time in 2021 at Le Cube – independent art room in Rabat/ Morocco.